Police Service
POLICE SERVICES ARE PROVIDED TO FRANKLIN TOWNSHIP BY:
THE PENNSYLVANIA STATE POLICE
3033 Old Harrisburg Rd
Gettysburg, PA 17325
DIAL 911 OR 717-334-8111 FOR ASSISTANCE
http://www.psp.state.pa.us
Fire Departments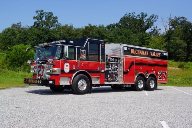 BUCHANAN VALLEY VOLUNTEER
FIRE DEPARTMENT, INC.
1180 Buchanan Valley Road
Orrtanna, Pennsylvania 17353
Phone: 717-677-9234 • Fax: 717-677-9132
www.buchananvalleyfd.org
Fire Chief Michael Spielman and Department President Tim Baldwin
The Buchanan Valley Volunteer Fire Department has been responding to emergencies since 1985.  Our 100% Volunteer Department works very hard in the Community to continue to provide top notch Emergency Services.  Our Members complete nearly 80 Fund Raisers each year.  These Fund Raisers range from Bingo to our famous Seafood Feasts.
Our current Apparatus Fleet meets all NFPA and OSHA Standards.
·  Engine Tanker 27:  2008 Pierce Arrow XT.  This unit carries 2000 gallons of water and has a 2000 GPM Pump.  ET-27 carries Engine Company Equipment, 2 thermal imaging cameras, a complete Holmatro Rescue System, rescue struts and is EMS Certified via the State
·   Engine 27:  1991 Pierce Arrow.  This unit carries 1500 gallons of water and has a 1250 GPM Pump.  E-27 carries Engine Company Equipment, brush fire equipment and is EMS Certified via the State
·   Brush 27:  2010 Ford F550 BRAT:  This unit carries 250 gallons of water and has a 60 CFM CAFS Pump.  CAFS is a high-expansion foam system.  B-27 carries brush/mountain fire equipment, Holmatro combi-tool with power unit, SCBA's, and is EMS and Epi-Pen certified via the State.
·   Special Unit 27:  2013 Ford F350:  This unit is our Primary EMS response vehicle and also carries Fire Police Equipment.  SU-27 is state certified for EMS and Epi-pen.
BVFD averages 350 emergency responses each year.  We provide a "quick response EMS" service.  BVFD currently is one of three Departments in Adams County that have reached the 50% Certified Firefighter level with the State Fire Commissioner.  This is a big step for a rural FD like BVFD.  Please feel free to contact BVFD is you have any questions and follow us online / facebook to see upcoming events.
Michael D. Spielman – Fire Chief:          717-677-0870
Timothy Baldwin – President:                717-677-9234  ext1
CASHTOWN COMMUNITY FIRE DEPARTMENT
1069 Old Route 30
Cashtown, PA 17310
Phone: 717-334-3838
Fax: 717-334-2872
Mailing Address: P.O. Box 172 Cashtown, PA 17310
www.cashtownfire.org
Fire Chief Jeff Bowling and Department President Bill Mooney
The Cashtown Community Fire Department has been providing emergency services to the Cashtown area since 1923. We currently operate four pieces of apparatus including a 2012 International / 4 Guys tanker carrying 2,200 gallons of water; a 2001 Pierce pumper; a 1991 International / Swab rescue squad; and a 1985 Chevrolet 4×4 brush unit. Our members stay very active throughout the year answering approximately 300 calls for service, attending training, and conducting a variety of fundraisers. The department is always looking for new volunteers. If you would like to get involved, please see our contact information listed above.
ARENDTSVILLE COMMUNITY FIRE DEPARTMENT
Fire Chief Matt Johnson and Department President Van McCleaf

A small section of Franklin Township is provided fire protection by the Arendtsville Community Fire Department. For any fire-related emergency Dial 911.